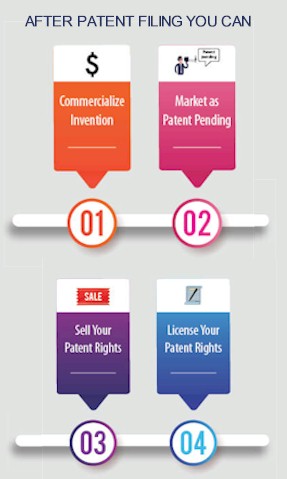 The firm provides a wide range of patent services, including novelty and infringement searches; patentability opinions; the preparation and filing of patents; utility models; certificates of addition, divisionals, and industrial design applications, based on the Paris Convention; payment of patent annuities; complete patent prosecution before the Bangladesh Patent Office, including Administrative Appeals, in the areas of mechanical, electrical, chemical, biological/biotechnological, pharmaceutical, computer, and related sciences engineering. Our skilled litigators and technical personnel work closely together to provide infringement opinions and cease and desist letters, as well as to develop enforcement strategies, both before and after litigation begins. They often serve as court-appointed experts in patent disputes. We have also successfully sued infringers and stopped their infringing activities by seizing the infringing goods. Because of our solid experience in the patent field, we are participating in the discussions concerning the enactment of new Patent Law pending for legislation in Bangladesh.

Our firm provides a complete range of services relating to the protection of Industrial Designs in Bangladesh, both administratively at the Bangladesh Patent & Design Office and also through the Courts. An industrial design is defined as any ornamental plastic form of an object or any ornamental arrangement of lines and colors that may be applied to a product that provides a new and original visual result in its outer appearance, and that may serve as an industrial manufacturing prototype. A registered design offers protection for the outward appearance of an article and is not concerned with any underlying principle or idea. It may thus protect the shape of an article or a pattern applied to the article.
What is a Patent?
A patent is an exclusive right granted for an invention, which is a product or a process that provides, in general, a new way of doing something, or offers a new technical solution to a problem. In order to be patentable, the invention must fulfill certain conditions (please see the answer to the question below " what kinds of inventions can be patented?").

What does a Patent do?
A patent provides protection for the invention to the owner of the patent. The protection is granted for a limited period, generally 16 years.

What kind of Protection does a Patent offer?
Patent protection means that the invention cannot be commercially made, used, distributed or sold without the patent owner's consent. These patent rights are usually enforced in a court, which, in most systems, holds the authority to stop patent infringement. Conversely, a court can also declare a patent invalid upon a successful challenge by a third party.

What Rights does a Patent Owner have?
A patent owner has the right to decide who may - or may not - use the patented invention for the period in which the invention is protected. The patent owner may give permission to, or license, other parties to use the invention on mutually agreed terms. The owner may also sell the right to the invention to someone else, who will then become the new owner of the patent. Once a patent expires, the protection ends, and an invention enters the public domain, that is, the owner no longer holds exclusive rights to the invention, which becomes available to commercial exploitation by others.

Why are Patents necessary?
Patents provide incentives to individuals by offering them recognition for their creativity and material reward for their marketable inventions. These incentives encourage innovation, which assures that the quality of human life is continuously enhanced.

What Role do Patents Play in Everyday Life?
Patented inventions have, in fact, pervaded every aspect of human life, from electric lighting (patents held by Edison and Swan) and plastic (patents held by Baekeland), to ballpoint pens (patents held by Biro) and microprocessors (patents held by Intel, for example).All patent owners are obliged, in return for patent protection, to publicly disclose information on their invention in order to enrich the total body of technical knowledge in the world. Such an ever-increasing body of public knowledge promotes further creativity and innovation in others. In this way, patents provide not only protection for the owner but valuable information and inspiration for future generations of researchers and inventors.

How is a Patent Granted?
The first step in securing a patent is the filing of a patent application. The patent application generally contains the title of the invention, as well as an indication of its technical field; it must include the background and a description of the invention, in clear language and enough detail that an individual with an average understanding of the field could use or reproduce the invention. Such descriptions are usually accompanied by visual materials such as drawings, plans, or diagrams to better describe the invention. The application also contains various "claims", that is, information which determines the extent of protection granted by the patent.

What kinds of Inventions can be Protected?
An invention must, in general, fulfill the following conditions to be protected by a patent. It must be of practical use; it must show an element of novelty, that is, some new characteristic which is not known in the body of existing knowledge in its technical field. This body of existing knowledge is called " prior art". The invention must show an inventive step which could not be deduced by a person with average knowledge of the technical field. Finally, its subject matter must be accepted as "patentable" under law. In many countries, scientific theories, mathematical methods, plant or animal varieties, discoveries of natural substances, commercial methods, or methods for medical treatment (as opposed to medical products) are generally not patentable.
What is an industrial design?
An industrial design is the ornamental or aesthetic aspect of an article. The design may consist of three-dimensional features, such as the shape or surface of an article, or of two-dimensional features, such as patterns, lines or color. Industrial designs are applied to a wide variety of products of industry and handicraft: from technical and medical instruments to watches, jewelry, and other luxury items; from housewares and electrical appliances to vehicles and architectural structures; from textile designs to leisure goods. To be protected under most national laws, an industrial design must appeal to the eye. This means that an industrial design is primarily of an aesthetic nature, and does not protect any technical features of the article to which it is applied.

Why protect industrial designs?
Industrial designs are what make an article attractive and appealing; hence, they add to the commercial value of a product and increase its marketability. When an industrial design is protected, the owner - the person or entity that has registered the design - is assured an exclusive right against unauthorized copying or imitation of the design by third parties. This helps to ensure a fair return on investment. An effective system of protection also benefits consumers and the public at large, by promoting fair competition and honest trade practices, encouraging creativity, and promoting more aesthetically attractive products. Protecting industrial designs helps economic development, by encouraging creativity in the industrial and manufacturing sectors, as well as in traditional arts and crafts. They contribute to the expansion of commercial activities and the export of national products. Industrial designs can be relatively simple and inexpensive to develop and protect. They are reasonably accessible to small and medium-sized enterprises as well as to individual artists and craftsmen, in both industrialized and developing countries.

How can industrial designs be protected?
In most countries, an industrial design must be registered in order to be protected under industrial design law. As a general rule, to be registrable, the design must be "new" or "original". Different countries have varying definitions of such terms, as well as variations in the registration process itself. Generally, "new" means that no identical or very similar design is known to have existed before. Once a design is registered, a registration certificate is issued. Following that, the term of protection is generally five years, with the possibility of further periods of renewal up to, in most cases, 15 years. Depending on the particular national law and the kind of design, an industrial design may also be protected as a work of art under copyright law. In some countries, industrial design and copyright protection can exist concurrently. In other countries, they are mutually exclusive: once the owner chooses one kind of protection, he can no longer invoke the other. Under certain circumstances an industrial design may also be protectable under unfair competition law, although the conditions of protection and the rights and remedies ensured can be significantly different.
Bangladesh is a signatory-party to the Convention establishing the World Intellectual Property Organization (WIPO) from January 1, 1987. In addition, Bangladesh is also a signatory-party to The Universal Copyright Convention, Berne Convention for the Protection of Literary and Artistic Works (Paris, 1971), and The Paris Convention for the Protection of Industrial Property of March 20, 1883. In Bangladesh the laws governing the Intellectual Property matters are:

A. The Patents and Designs Act, 1911;
B. The Trademarks Act, 2009; and
C. The Copyright Act, 2000.

In addition, there are several penal laws against the violations of various Intellectual Property Rights in The Penal Code as well as in The Customs Act of Bangladesh.
Moreover, Bangladesh is a party to The General Agreement of Tariffs and Trade 1994 (GATT), which includes the Chapter entitled " Trade-Related Aspects of Intellectual Property Rights" (TRIPS) and, as such, makes her a Member of the World Trade Organization (WTO) family.

The Government of Bangladesh maintains offices of the Trademark Registry, in Dhaka and Chittagong, Patent & Design Office in Dhaka, and the Copyright Office in Dhaka at present. All the courts of District Judge in each district and the courts of Magistrates do take cases for judicial enforcement of various existing Intellectual Property laws of Bangladesh. The Supreme Court and the several courts of the High Court Division of the Supreme Court of Bangladesh hear the Intellectual Property appeal cases.

From the above it is clear that Bangladesh is marching forward to be closely associated with the process of globalization of Intellectual Property Laws. In Bangladesh lately new laws have been drafted further modifying and modernizing the laws on Patent and Design; Trademarks and Copyrights. We are pleased to say that we had been associated with the processing of the said laws which are to be introduced with wider legal protections and scopes.

Our Firm keeps constant watch on the present status and the future trends of Intellectual Property laws at home and abroad. We are associated with the country's first incorporated Bangladesh Intellectual Property Law Society. This Society published the comprehensive book entitled Major International Laws for the Protection of Intellectual Property Rights, 1999; viii, 408 Pp. which greatly helped the Intellectual Property officials and judiciary a better understanding of the relevant international laws and Conventions and the enforcement of the same in Bangladesh.