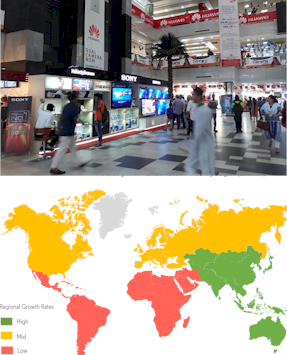 Retail and Fast Moving Consumer Goods industry is a dynamic indistry that requires multifaceted expertise in a large number of pactice areas. And the capability of the firm in ths industry is one of the finest.

The firm's advisory and litigation teams advise retail and FMCG clients of the Firm on a variety of matters relating to contentious and non contentious issues. As contentious matters we represnt clients from courts of first instance to appellate division of the Sepreme Court and from tax tribunals to tax appellate tribunals. In addition, the firm provides a market leading intellectual property prsecution and enforcement practice in Bangladesh.

Among different and diversified areas the industry is effectively advised by our counsels in dynamic areas especially in the following aspects:


Import Export &Customs: Frequently needs advise on customs regulations on controlled and uncontrolled product / raw material imports and conflicts on applicable duties. Also requires support on duty free imports and bonded warehouse operations and disputes
Trade Secrets: It is particularly important in case of joint ventures where parties are prone to breach and competition by its own partners.
Label, Weight and & Packaging: This is another area on interest for this industry as the supply chain structuring and operation very much depends on how to package and label products adhering to local regulations.
Supply Chain & Marketing: Perhpas ths is most important aspect for the retail and FMCG sector in business and D&D possess the right expertise to advise the clients in this sector. The Firm also extensivelt advises on transactional aspects of businesses including distributor agreements, disputes with distributors and retailers etc.
Advertising: Along with general advisory this advisory becomes most important for comparative advertising claims and issues
Sales Tax (VAT): This is an area originally under the Tax practice but is particularly important for retail and FMCG industry as those are frequently challenged by the National Board of Revenue of applicable VAT and VAT credits.
Consumer Protection: It is natural that retail and FMCG businesses would be facing lot of complainst and actions. At the firm we help te clients to limit there liabiolities at the onset with proper customer communication. On the other hand we help the clients to properly deal with the authorities, courts and consumers for effective and win-win solutions upon proper adjudication of matters.
Our major clients in this sector includes:
Associated British Foods
PepsiCo
SC Johnson (Dabur)
Kansai Nerolak
Meghna Group
Wallmart
Gap
Tesco
Target
Wesfarmers
Ceat
Kmart
Woolwarts
Levies
JCPenny
American Home Products
Colgate