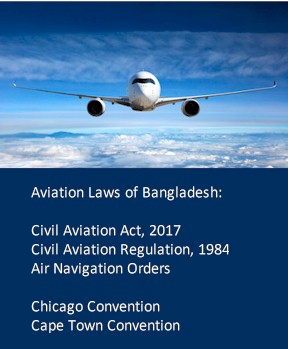 Starting from the regulatory frameworks the firm has wide experience in this sector including advisory work and drafting of documents on a wide range of aviation matter e.g. protecting, perfecting, and enforcing ownership or security interests in aircrafts, aircraft purchase, mortgage of aircrafts and aircraft parts, wet and dry leasing as well as financing. The firm also has significant experience in handling carriers' liability resulting from casualties, collision, pilotage, towing and salvage under Bangladesh law and international conventions.
A significant portion of Doulah & Doulah's aviation works comprise of asset financing, securitization, novation of lease and trust indenture of aircrafts which are being operated under registration in Bangladesh. The firm regularly advises a lare number or conglormarates on such issues in Bangladesh.
In addition, the firm advises a number of air opertors in their day to day operation such as compliance with local regulation, general service agreement, passenger service agreement, ticketing services, aerospace service, liens and in general corpoate advisory.
Bangladesh has been a signatory to Cape Town convention and ratified the same entitling the Govt. to waive the requirement from additional guarantee by way of registering all relevant rights in the aircraft registers under the Cape Town Convention. The firm is an honorary advisor to the Aviation Working Group (AWG).
Some major matters undertaken are outlined below: