We undertake both dry and wet shipping works. Under Dry shipping work the firm undertakes disputes concerning contracts of affreightment, cargo claims, claims under marine insurance policies, arrest of ships and judicial sales. The firm also has wide experience in "wet" shipping work including casualties, collision, pilotage, towing and salvage under Bangladesh law and international conventions.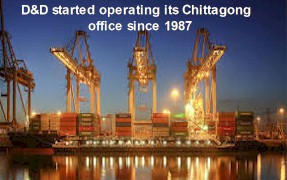 The firm handles a wide range of shipping matters for both domestic and international clients including owners, agents, P&I clubs, financiers, charterers and cargo interests together with their insurers. The firm has also represented freight forwarders, trade associations and other providers of maritime services.The firm has handled a variety of cargo disputes involving diverse items, such as bulk oil, grain and containerized goods. In addition the firm is specialized in enforcing maritime liens under local and international conventions and laws.
In addition to the above, the firm also undertakes a large number of non-contentious shipping and maritime matters such as letter of credit and bill of lading draftings and opinions, tran-shipment arrangements, mortgage and security, pilotage, towage and so on. The firm also advises a number of major freigh forwarders and carrier lines and acts in various matters with the Chittagong Port. In this connection the firm has been operating a Chittagong branch since 1987.
Complemented by a strong non-contentious admiralty, maritime and shipping expertise the firm has litigation lawyers with access to the admiralty jurisdiction and the appellate division of the Supreme Court of Bangladesh which enables the firm to take up and pursue matters at the highest judiciary level without resorting to outside counsels.